Kaeanda Whisky Rose
NZKC NO: 01787-2008 DOB: 22/8/2007
SIRE: KELNIC HIEYE Q NZKC NO: 00530-2005
DAM: BORDERCHECK BRANDY TWIST (IMP AUST.) REGISTRATION NO: 2100112496
CLEAR BY PARENTAGE CL, DNA TESTED CLEAR TNS, CEA CARRIER
Whisky measured at shoulder 490mm 18 months old
Whisky was brought from Sharon Banks (Kaeanda Kennels). Whisky has taken a shine to swimming and loves it down the beach with the other dogs. I am now starting to train her as she matures and I am teaching her some obedience and agility. She is going to grow into quite a big bitch. She is not as quick as some of my own pups in picking up what you are wanting but she is coming along nicely with a bit of time and patience's. And like with most pups it will be up to me and my training how good she gets at what she is being taught. Whisky is maturing now and with it has come a much easier bitch to train. We do a couple of tricks, weave my legs and stands up on her back legs. She is coming around nicely with obedience & agility training is also coming on. I have started to compete in agility with Whisky, placing in elementary, clear round in starter and Jumpers so far. Entered her in for elementary no points at obedience as she is not up to Novice level yet. Erin is taking Whisky over for a month while Claire is on heat, going to run her in Jumpers and also Elementary Obedience. Taking a bit to do the change of handler with agility but Erin is keen to keep trying so will see how it goes for awhile. Obedience is working out well with Whisky and Erin. Looking forward to her litter from Astra Sky due 19th October 2009. 8 Pups born 17/10/09. Whisky has just gone back to competing and at the moment is working for either of us. Whisky is for sale, we like her a lot but I want to keep my dogs dual purpose (stock work and agility/obedience) Whisky does lovely obedience and getting good at agility does lots of tricks and works for both me and Erin but she is not a sheep dog. I have really enjoyed training her.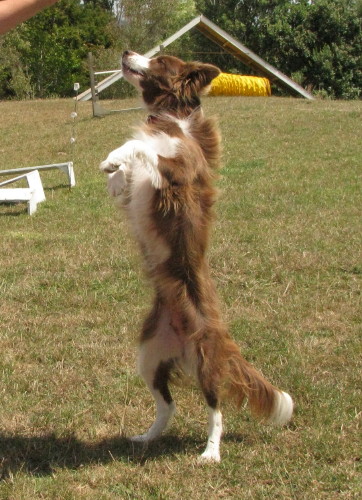 Whisky doing tricks.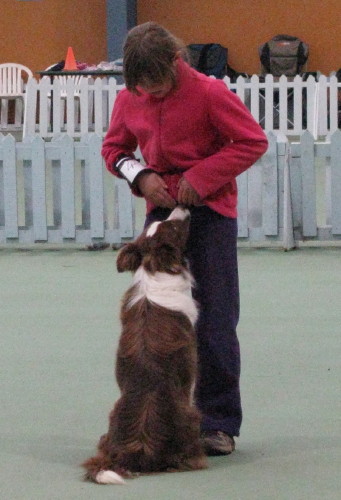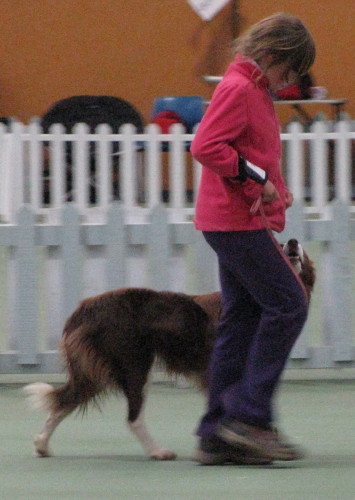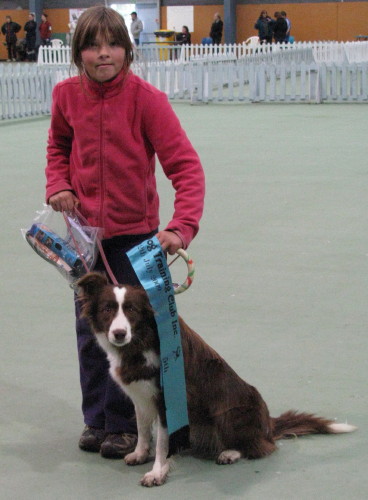 Erin & Whisky 5th Elementary, All Breeds Champ Show July 2009.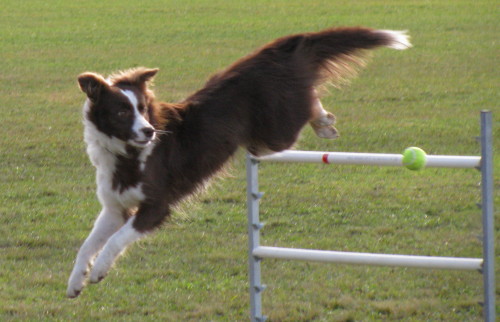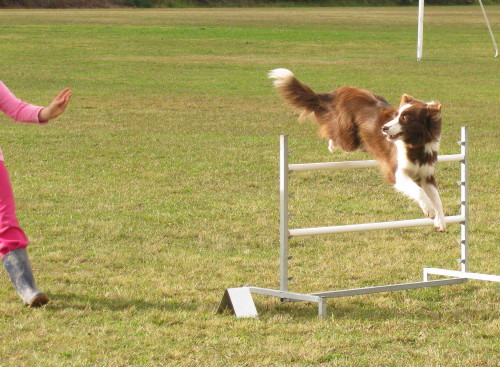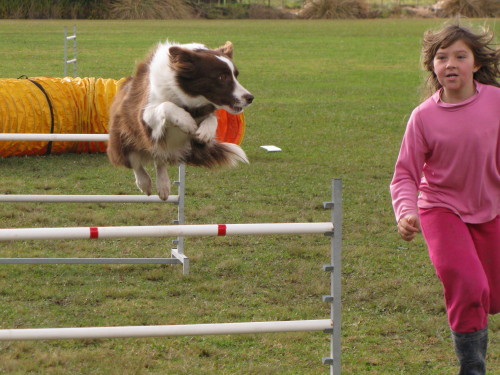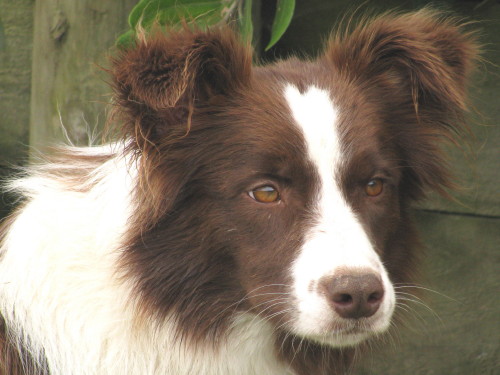 Whisky 18 months old.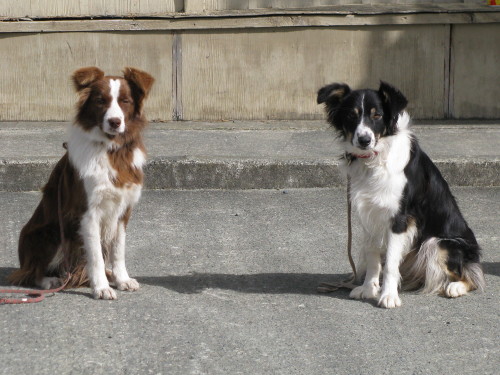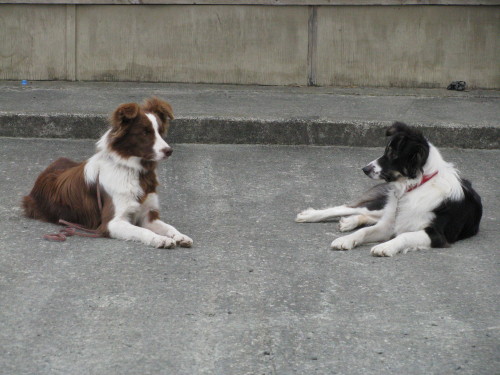 Whisky and Kay practicing their sit stays and down stays.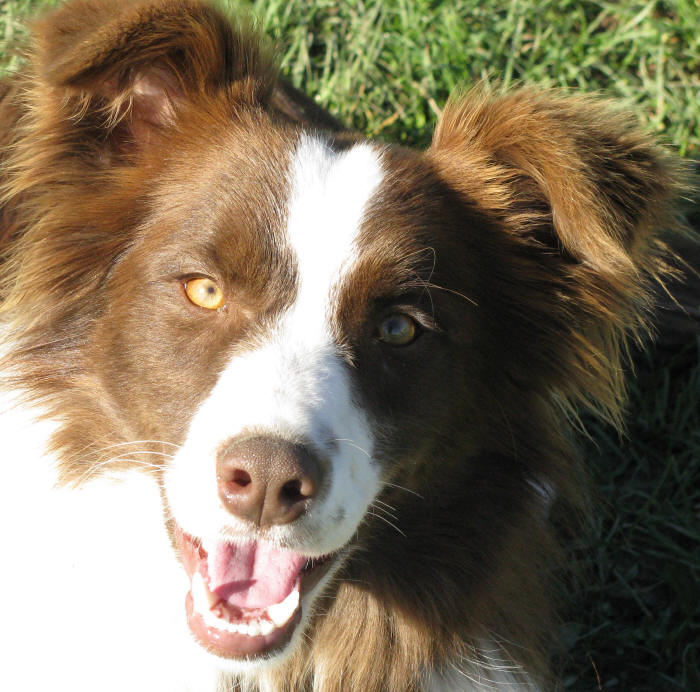 Whisky July 2008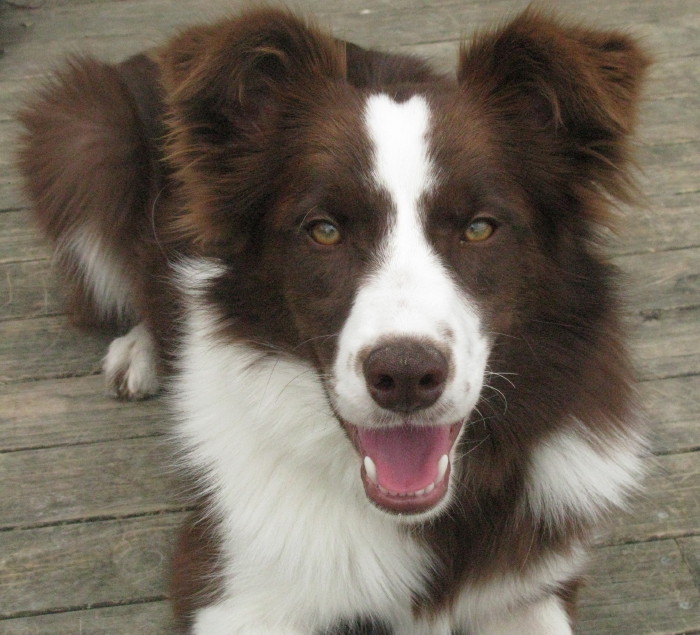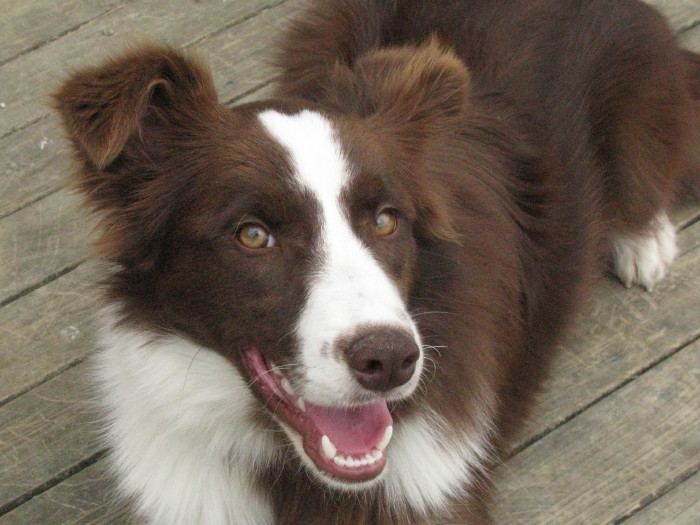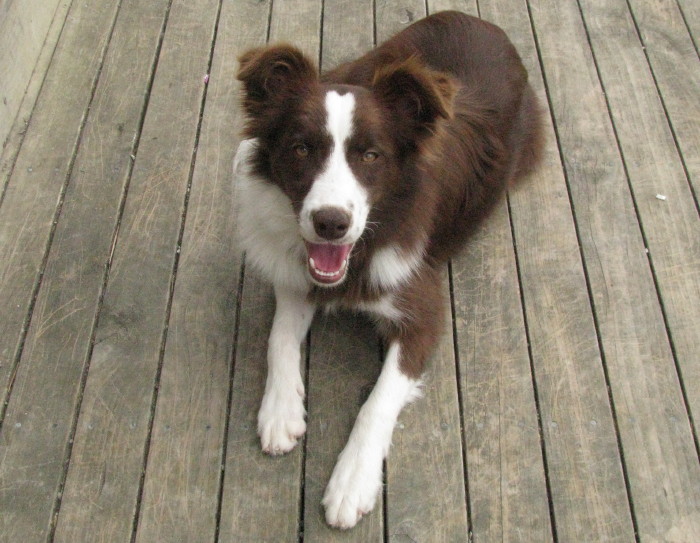 Whisky at just over 6 months old.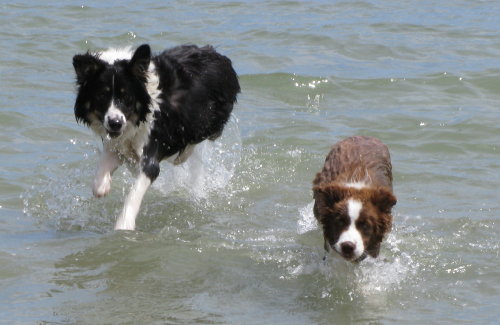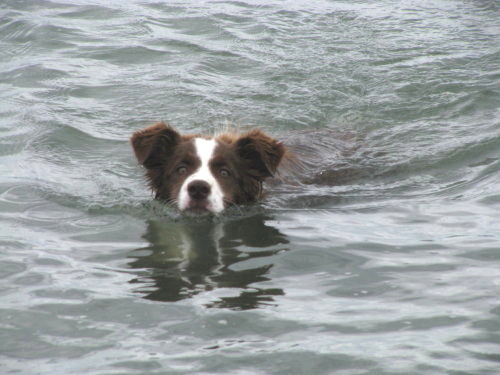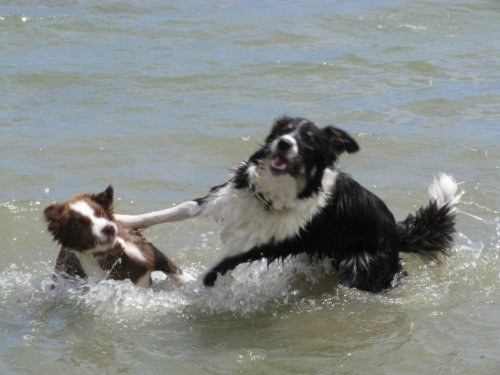 Kay and Whisky. I don't think Kay wanted to lose the race to Whisky.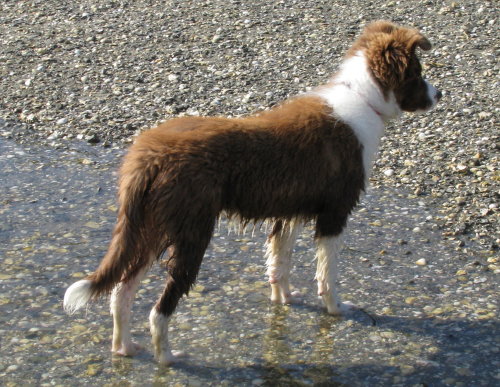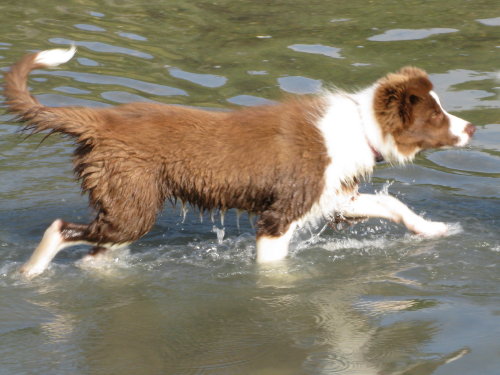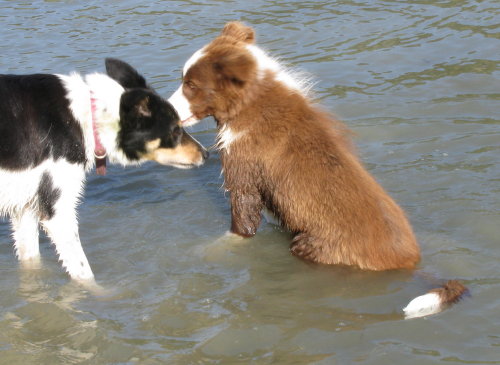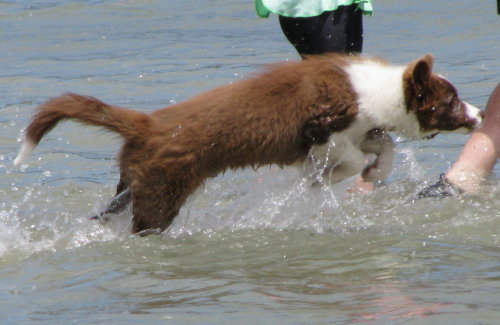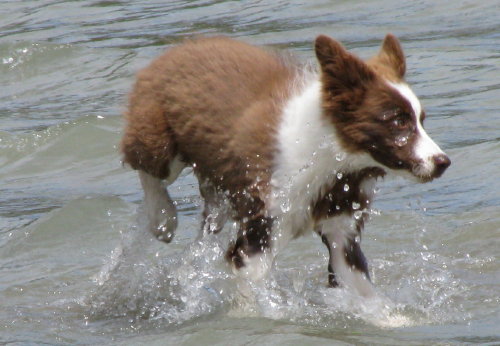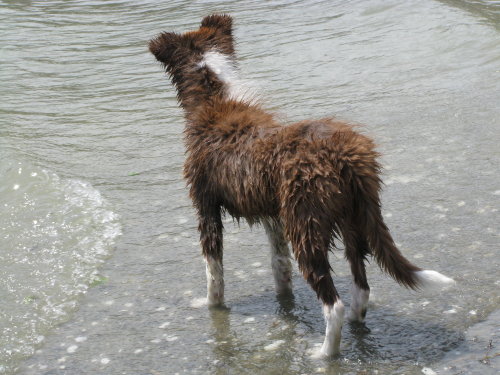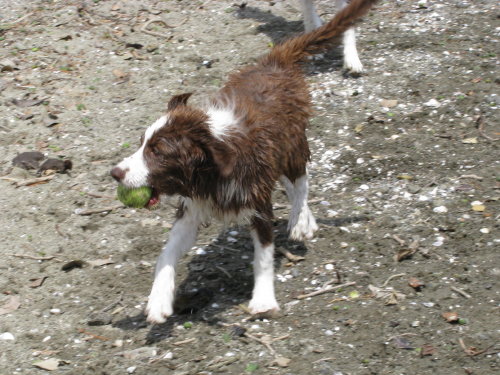 Whisky having fun and games down the beach.
Whisky at nearly 4 months.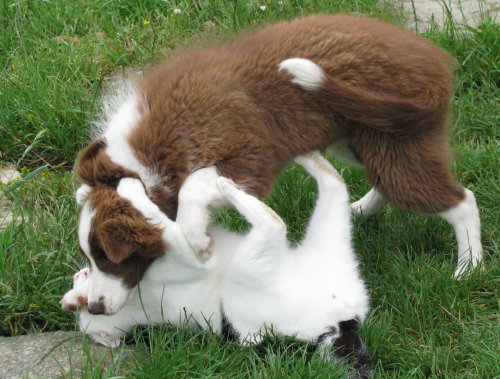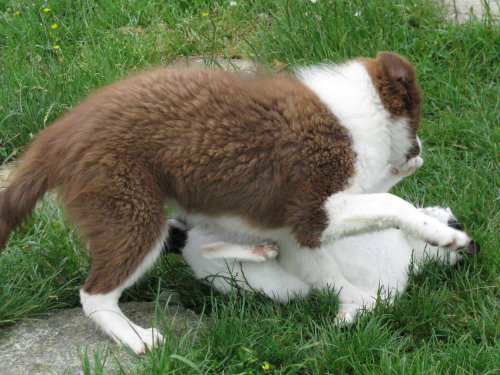 Our mad cat/dog mitten playing with Whisky.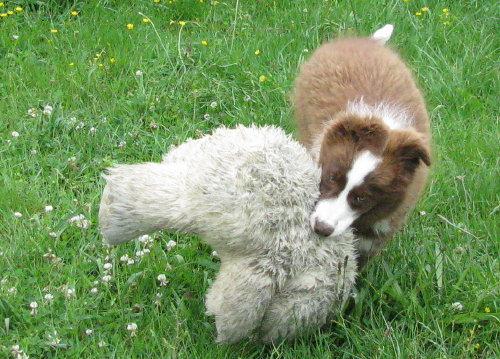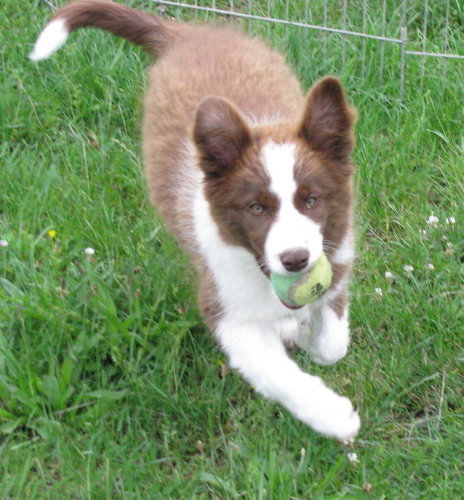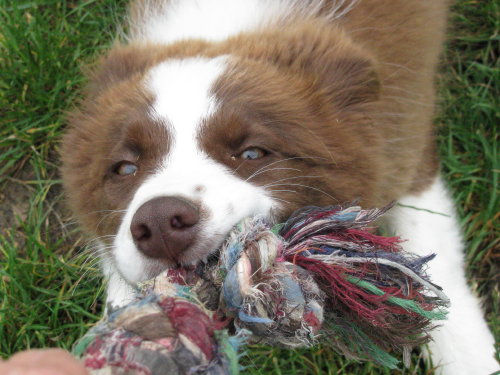 Retrieving for me and Playing tug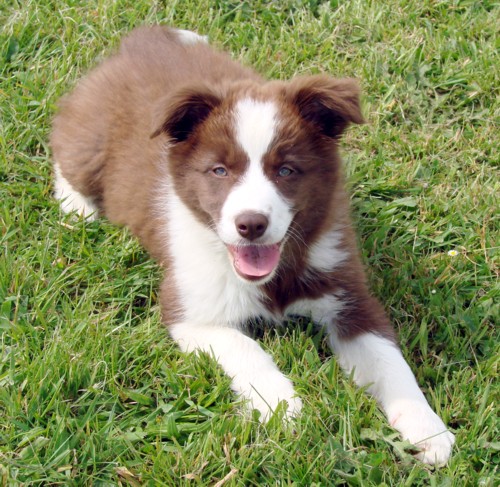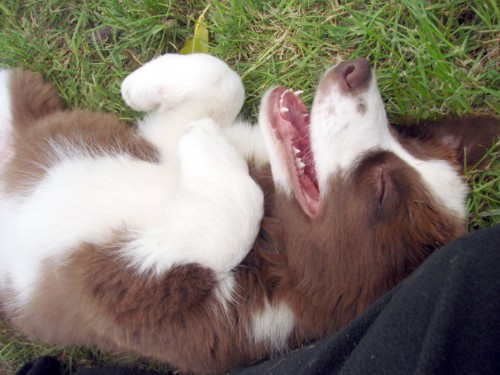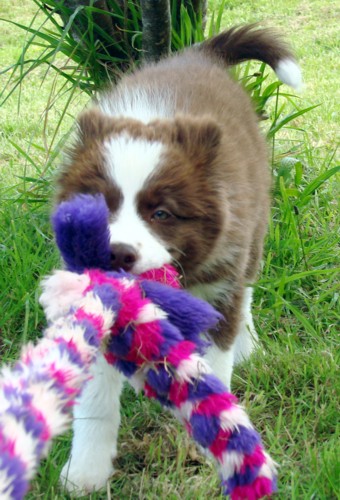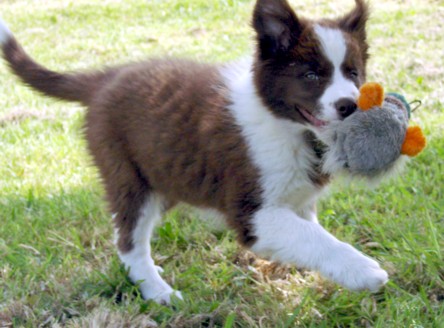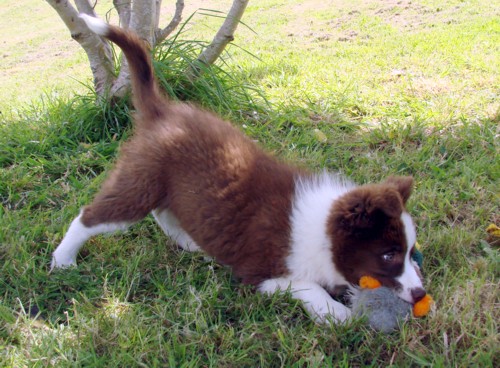 Whisky at 10 weeks old.
WHISKY'S PEDIGREE
KELNIC HIEYE Q

00530-2005

ASHMOOR RYTHM 'N' BLUE

05488-2002

NZ & AUST CH ROSSHIRE BRIGADOONE 01912-1993

CH. DEARBORN OVERLANDER

BROADFIELD TEMPTRESS

RIMROCK QUEEN OF HEART 01452-19999

RIMROCK ZORRO N BLUE

CH. RIMROCK DEVIL N DISGUISE

KELNIC AN EGO HAS LANDED

01447-2001

BORDERCHECK BURNE O TAN

(IMP AUST) 2100063075

AUST NZ CH GLENTRESS CHAIN REACTION

BORDERCHECK ACQUITANE

CHAVEZ ROSES N DREAMS

05991-1998

CHAVEZ RILEY'S LUCK

CH ORAABBY BETTER N POPCORN

BORDERCHECK BRANDY TWIST (IMP-AUST

2100112496

BORDERCHECK MIRK O TAN 2100063073
AUST & NZ CH GLENTRESS CHAIN REACTION

AUST CH CHECKMATE CHOCO

CHECKMATE QUEENO SCOTS

BORDERCHECK ACQUITANE

BORDERCHECK THE CRUSADER

BORDERCHECK MERIBEN GYA

SHEBASHINE MISTY 1345524
BORDERCHECK JARRAH CD

ANNANGROVE LITTLE SHEP

KINGWILLIAM JANEL

HISPIDA TRI SHEBA

ANSAVON BLACK ACE

ANSAVON MYSTIC CHARM