OHUTU STYLE TO IMPRESS (STYLE) ADXB JDX RA FD
NZKC NO: 05908-2009 DOB: 24/5/2009
SIRE: ASTRA CAP ISDS NO: 277223 NZKC NO: 18004 - 2005 BREEDER: JP BEALE
DAM: OHUTU ROSE SATIN N LACE (Sky) NZKC NO: 08259-2006 BREEDER: J GAILEY
CL & TNS CLEAR BY PARENTAGE
STYLE HAS BEEN DNA TESTED CARRIER FOR CEA
AGILITY HEIGHT: STYLE IS MEASURED AT THE SHOULDER AS MIDI - 480mm
STYLE'S SIRE'S PAGE (Click on Photo)
Style has been breed out of a lovely bitch (Ohutu Rose Satin N Lace) that was out of Molly Rose of Ohutu (Jessie) and Astra Sky. She was breed to Astra Cap and had a resulting litter of 7 pups. Style will live at Ohutu Kennels. Style come at a time when we hadn't had any pups for close to 16 months. She got quite spoilt by us all. She will learn Obedience, Tricks & Agility at the moment, will also start her on sheep work. 2010 Update: Style is progressing well and I enjoy working with her. Getting her ready to start competing in Agility late November. I take Kay & Style to obedience training once a week but in winter this is all the obedience training they get, so Style's progress has been slowed by lack of practice. But she is still coming on nicely. Style started agility off very well, winning out of elementary A and placing in Jumper and Starters, looking forward to starting the new season with her. I took Style to The Eukanuba NZ Nationals and she competed in Starters, Jumpers C and Novice. She made it to both Starters and Novice finals and came 1st in Novice at the Nationals 2011. Update 2012: At 6 months old Style was very keen to work sheep but I didn't have time to train her on them and she was too young so needed to mature more. She then started competing in agility and time has gone by - so I have just started her sheep training now. She was a bit unsure the first few minutes but it wasn't long before the instincts kicked in and she was heading and pulling towards me at short distances. Next will be the bigger paddock. Style has just won into Jumpers A. I have often thought of breeding Style and have thought a dog from Jill x Bob would be a good cross but time is ticking on, she is now 5yrs old. 2015 Style is a lovely bitch and I can use her for anything but from now on will do mostly agility/Rally-O & Flygility - will not breed from Style as she is nearly 6 yrs old. Style has been re-homed.
Agility Video's Style in Starters Style Starters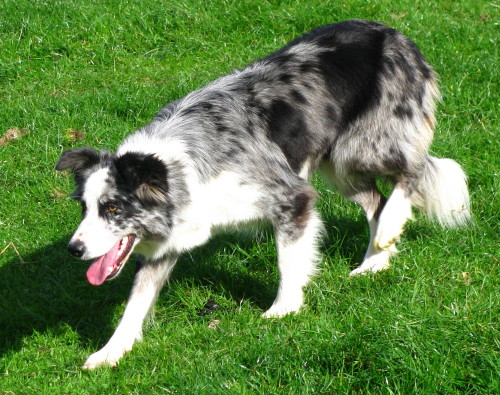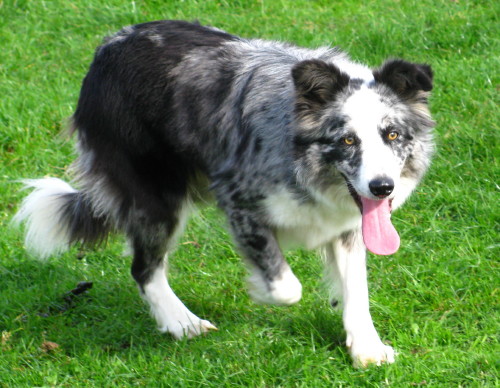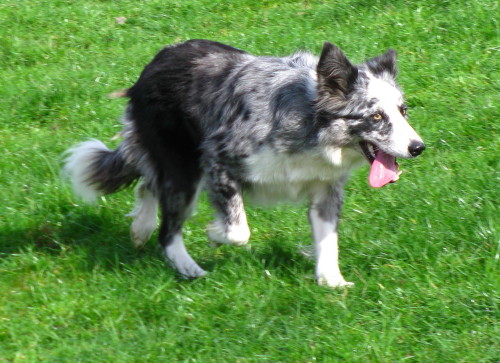 Style working sheep.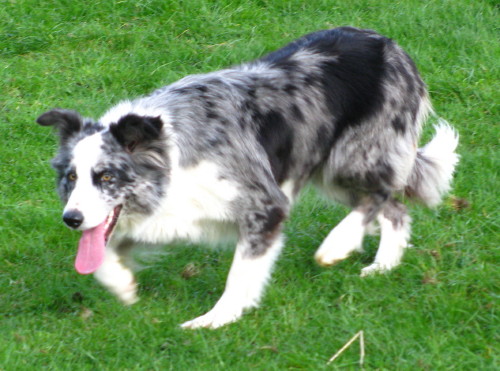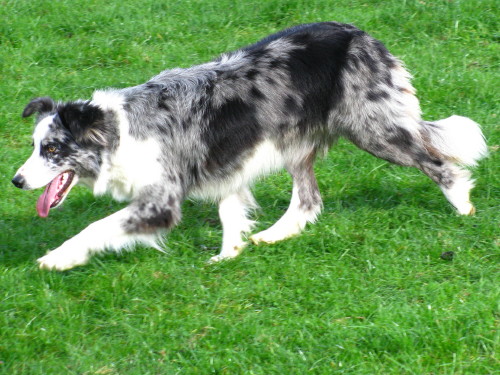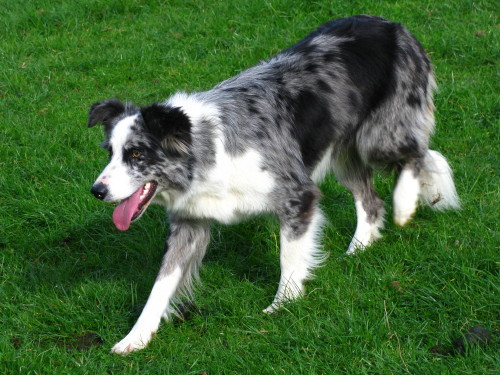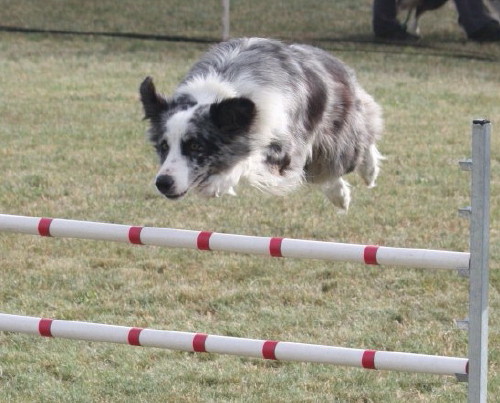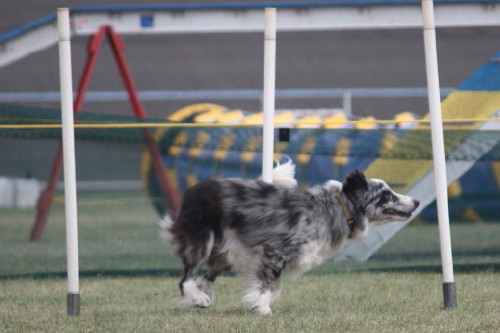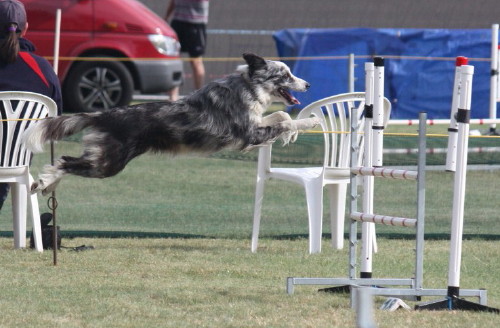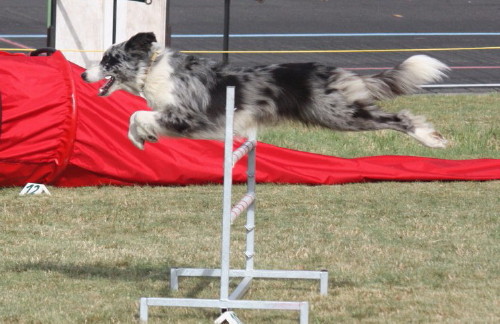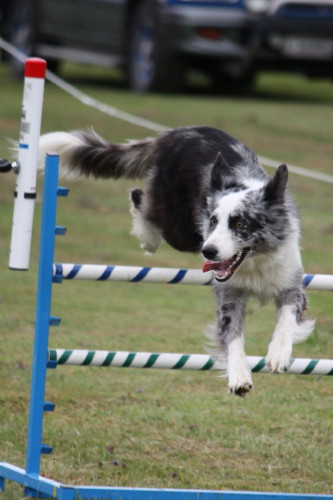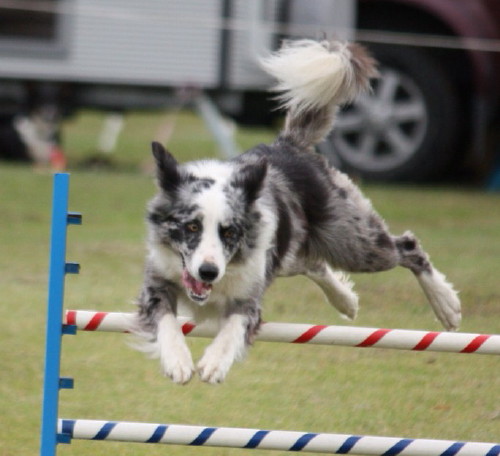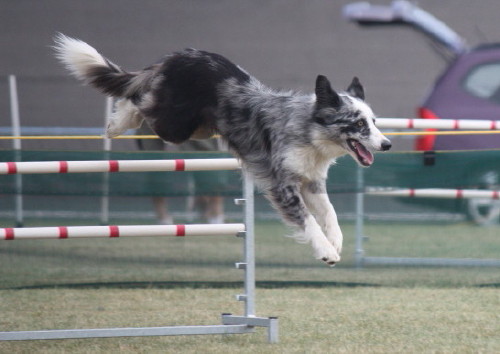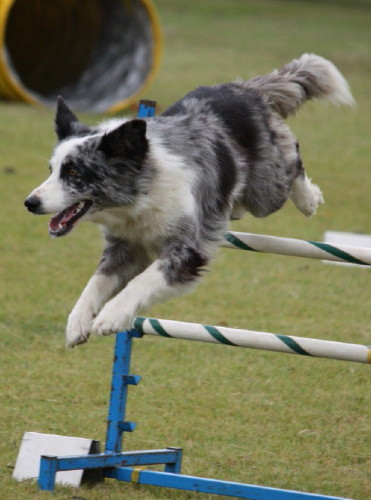 Style doing agility - Photo's by Emily O'Brien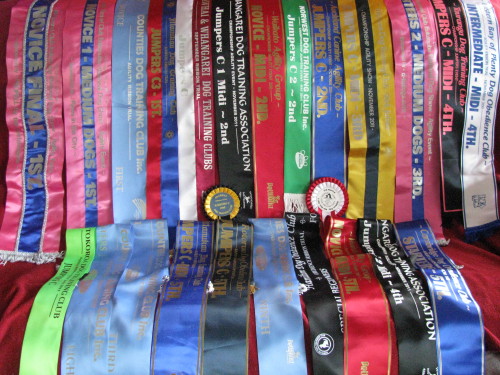 Style's ribbons from 2011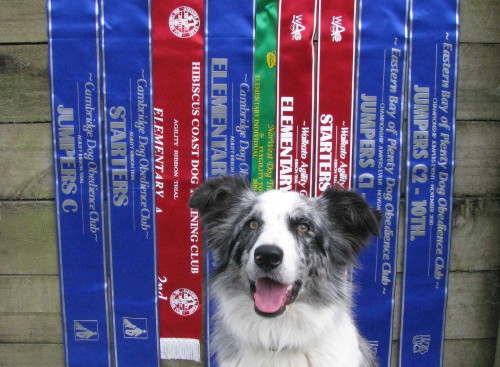 December 2010.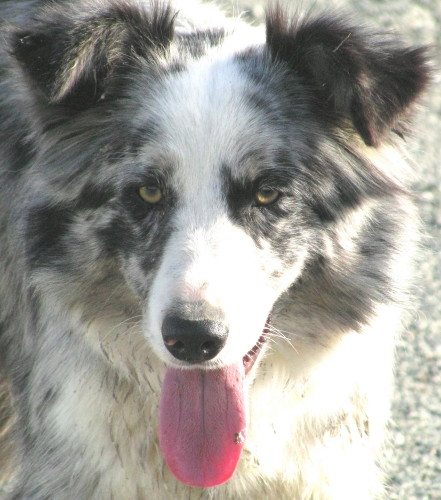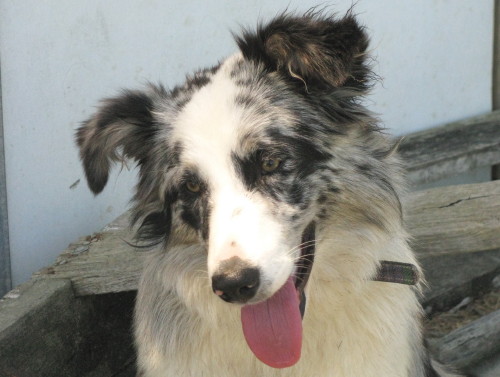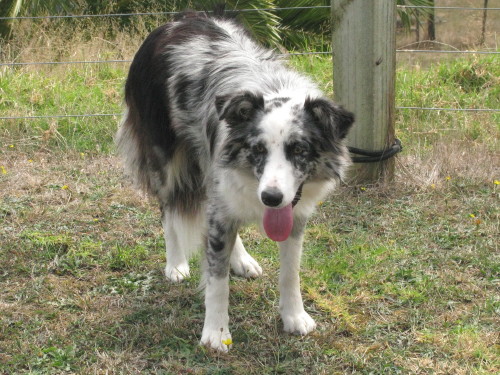 Style at 10 months old.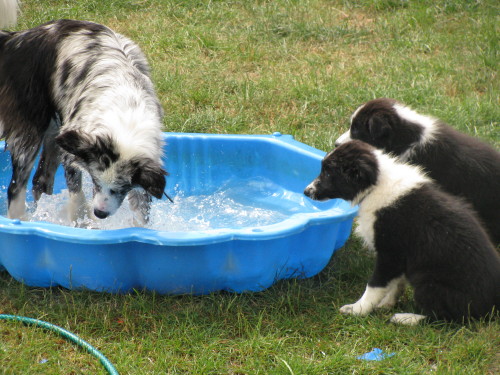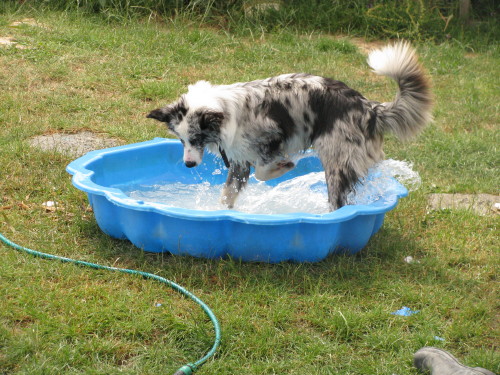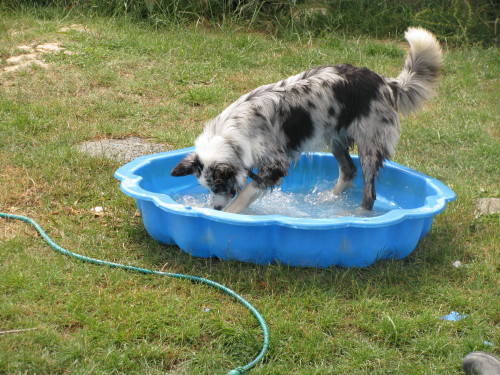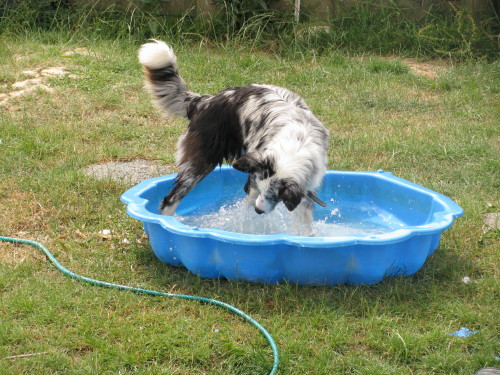 Style loves any water.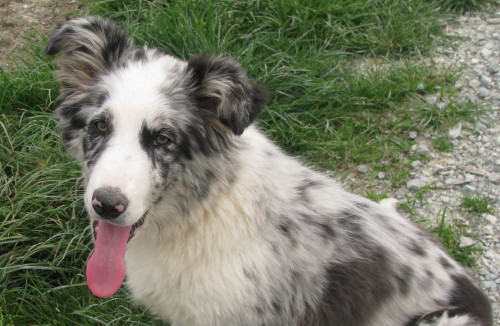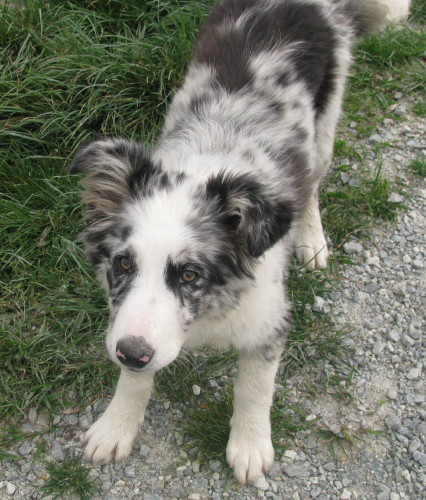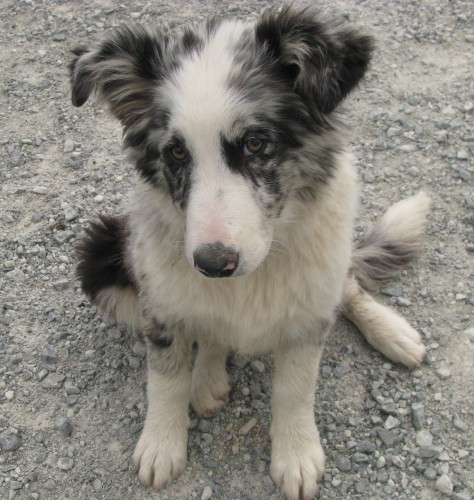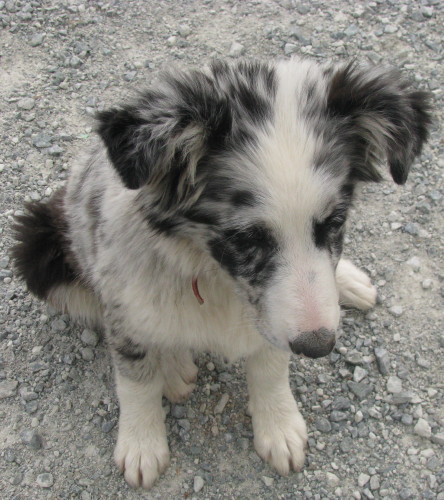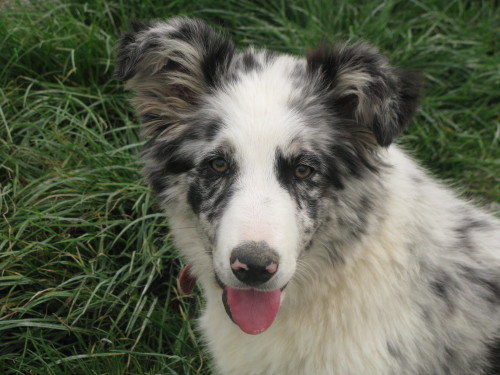 Style at nearly 4 months old.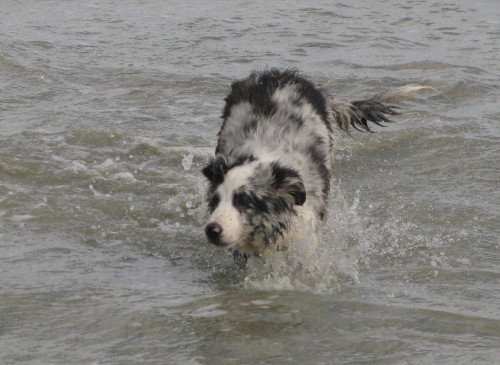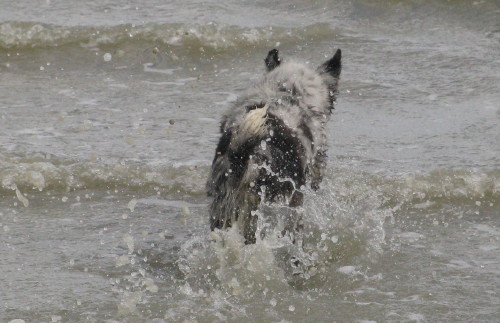 Styles' first experience of the Kaipara Harbour. She thought it was pretty good!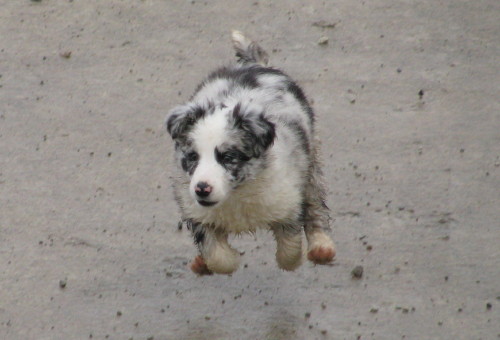 Photo taken by Erin (No Paws on the floor!)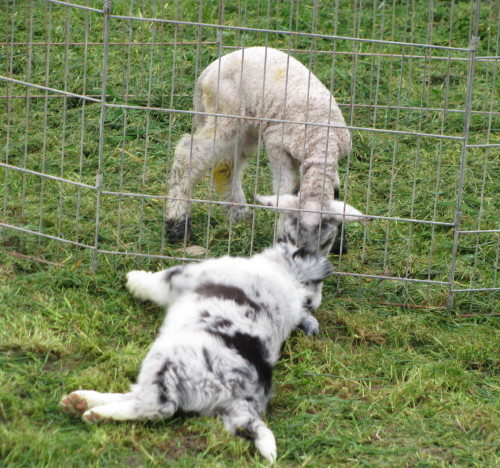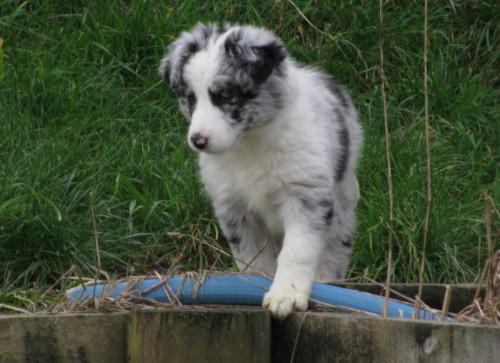 Style 8 1/2 weeks Old.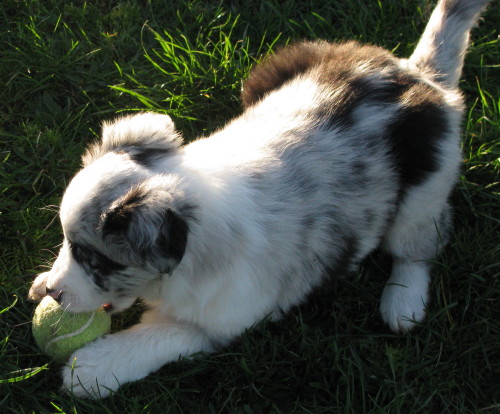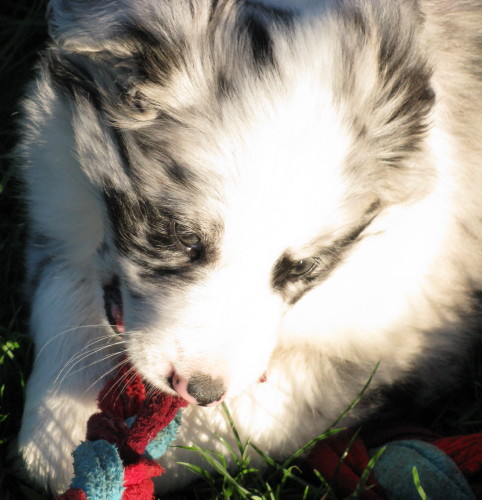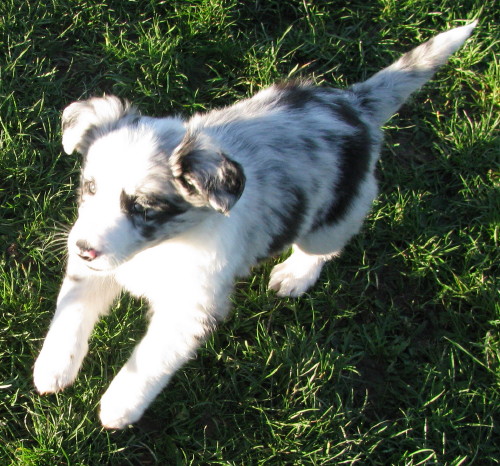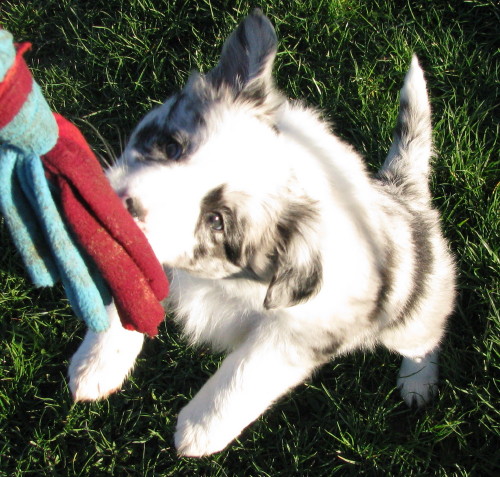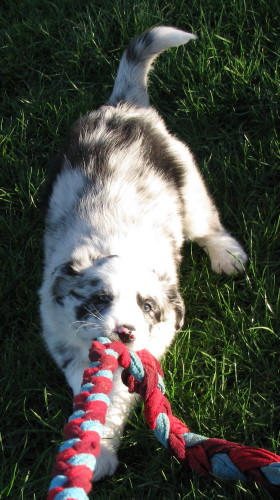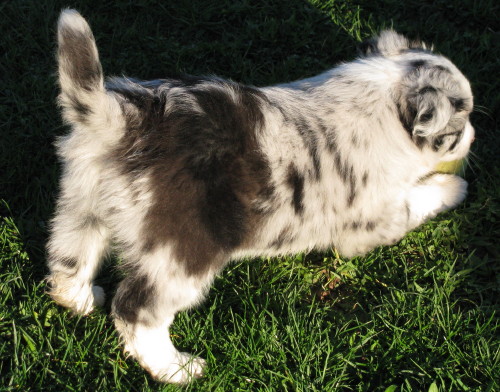 Style at 7 weeks old.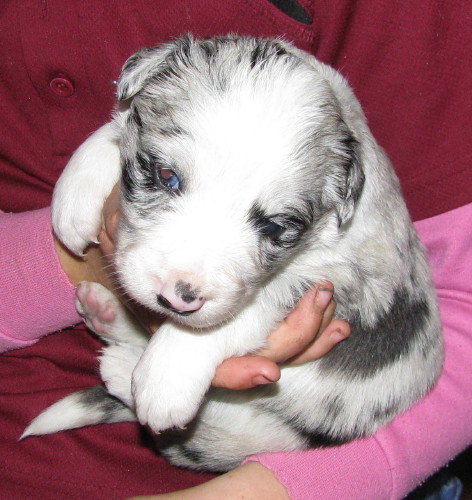 Style 3 weeks old
OHUTU STYLE TO IMPRESS PEDIGREE
ASTRA CAP

ISDS NO: 277223

NZKC NO: 18004 - 2005

CAP

ISDS NO. 266571

DOLWEN CHIPS 194883 INT DRIVING CH
TAFF 167290
DOLWEN NAN 163833
JILL 245915
ELIAN JAFF 224086
MAID 217488
ASTRA BUTE

ISDS NO. 248719

SWEEP 180949 INT.SUPR.CH 1998
BILL 159525
MIDGE 162829
ERYRI NAN 214305
ERYRI ROI 204258
BUTE 191203
OHUTU ROSE SATIN N LACE

NZKC NO:

08259-2006

ASTRA SKY

NZKC NO: 18007-2005

ISDS 278035

ASTRA MARS ISDS: 248493
SADGHYL PIP 193219
GEM 225547
ASTRA PRIDE ISDS: 255649
WHITEROSE KEP 228380 SCOT NAT CH
ERYRI NAN 214305
MOLLY ROSE OF OHUTU

NZKC NO: 03336-2003

BROXA GORDALE GHYLL NZKC NO:09491-2000
ROGANSROCK FINGAL
NAHROF OUTWARD BOUND
CH. KERRYBRENT CRYSTAL ROSE NZKC NO: 07239-1997
CH. NAHROF NORTHERN EXPOSURE
KERRYBRENT JADE CRYSTAL